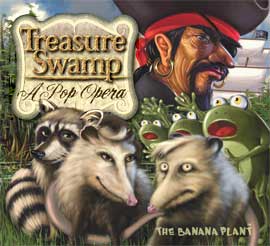 Pirates, Possums & Pandemonium!
A rollicking adventure in 22 songs.



An evil pirate and his plucky monkey invade the swamp in search of hidden treasure. And they'll destroy everything to find it. But they may have underestimated the swamp friends, who join forces to fight for their community. 43 minutes of non-stop excitement, featuring love-struck possums, a crafty raccoon, a gruff gator, a pokey turtle and so much more!






Celebrating Gulf Creatures and Features.



A homegrown, fun-filled songfest that brings to life the creatures, culture and character of the Louisiana Gulf Region. Give your children this exposure to this unique and colorful part of the country with this lively kid's CD. For kids and adults who live young.
Companion coloring book is also available.